Patrick's Leftover Fried Chicken Salad.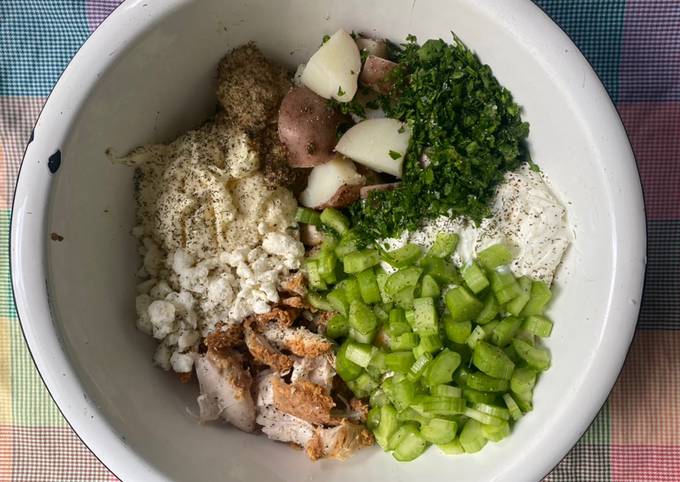 You can cook Patrick's Leftover Fried Chicken Salad using 10 ingredients and 8 steps. Here is how you achieve it.
Ingredients of Patrick's Leftover Fried Chicken Salad
You need of boiled red potatoes (quartered).
Prepare of celery.
You need of fried chicken - picked off the bone.
You need of blue cheese/feta cheese.
You need of dill/parsley (chopped).
You need of whole grain mustard.
It's of hot sauce to taste.
You need of salt & pepper to taste.
You need of mayonnaise.
Prepare of greek yogurt.
Patrick's Leftover Fried Chicken Salad step by step
Remove the chicken from the bone and place into a large mixing bowl. Add chopped celery, chopped herbs, and cheese to the bowl..
Wash and quarter your red potatoes. Boil in salted water until a fork will easily pierce the potato. Remove from the stove and drain. Allow to come to a room temperature and then add to the mixing bowl..
Add a tablespoon or more of whole grain mustard and salt & pepper..
Now comes the saucing. Add equal amounts of mayonnaise and greek yogurt to the bowl. Mix. You want the components to all be covered but not drowning in white. I recommend adding half of what you think you will use and then adding more mayo if you'd like a creamier chicken salad or more greek yogurt if you'd like a little more tang..
The next step up to you! Enjoy this chicken salad in a sandwich or wrap, put a scoop on your salad, or if you're like me crunch up some potato chips and sprinkle them on top of a heaping bowl and lunch/dinner/snack is served!.
Either mayo or greek yogurt can be used, I like the combination but if one tickles your fancy go with it. The only hard and fast rule of chicken salad is NO MIRACLE WHIP. That's all..
Proportions, proportions, proportions. I play with the proportions and ratios of this salad all the time, but as I said above it really does depend on how much fried chicken I have leftover. I typically make large batches of chicken salad and have it throughout the week for lunch/dinner/snacks..
I pick the fried chicken off the bone over the mixing bowl so that all the crunchy bits of breading fall in and I have more crunch in my salad!.